Springboard Book 4





(Based on 2 Reviews)
Suitable for: Key Stage 2 level for ages 6 to 11
ISBN: 978 07217 0887 4 | Pages: 29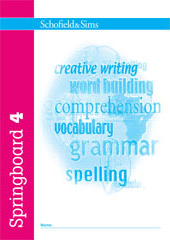 Take a look inside...
Product description for teachers and tutors
Springboard is a series of nine graded activity books designed to help build the functional English skills required at school, at work and in other aspects of day-to-day life. Illustrations are used throughout to support the wide variety of activity types included, ranging from simple word reading and letter formation exercises to complex writing tasks requiring considerable precision and attention to detail. Springboard provides many different contexts in which students are required to apply their knowledge, skills and understanding, giving them valuable practice and preparing them for full literacy.
Springboard Book 4 helps students to practise:
Converting nouns to adjectives by adding 'y' or 'ful'
Plurals
Alphabetical order (third letter in a word)
Capital letters.
Reviews





Jane Bayler
Amersham
Excellent support for literacy - helped my child move in to the top set at school.





Mrs.A.Horne
Preston
I have used the lower end of these books for years with my SEN students. They are excellent.
Also in the Springboard series