Basic Skills Book 5




(Based on 3 Reviews)
Suitable for: Key Stage 1 level for ages 5 to 7
ISBN: 978 07217 0837 9 | Pages: 31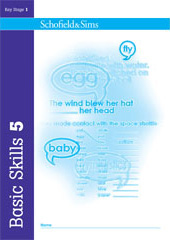 Take a look inside...
Product description for teachers and tutors
Basic Skills is a series of graded activity books reinforcing key aspects of literacy such as vocabulary, dictionary skills, reading comprehension and punctuation.
This book is suitable for children in Key Stage 1 who are preparing to make the transition to Key Stage 2.
Basic Skills Book 5 covers:
adjectives/adverbs/similes/connectives
collective nouns
cloze text (predicting missing words)
direct speech (speech bubbles)
comprehension.
Reviews





Sandra Rogers
Essex
Excellent - very helpful for younger children and very educational for them!




Mrs A Lynch
Walthamstow
I educated my children at home and have found your books very helpful. Keep up the good work.





lara
vauxhall
I home educate my seven-year-old son and I find all the Key Stage 1 workbooks extremely beneficial. The science workbooks really encourage me to do practical experiments with him. On the whole they are brilliant and should be used in schools to support children. Thank you very much.
Also in the Basic Skills series