Sound Phonics Phase Five Book 1: Year 1, Ages 5-6





(Based on 2 Reviews)
Suitable for: Foundation / Key Stage 1 level for ages 5 to 6
ISBN: 9780721711492 | Pages: 47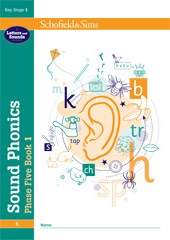 Product description for parents
Sound Phonics prepares children for full fluency in reading, writing and spelling by providing intensive practice in phonics. A comprehensive phonics resource, it is fully compatible with 'Letters and Sounds' and any other incremental phonics programme. Its graded activities, best completed with an adult, reinforce early literacy skills through listening and speaking, and support a multi-sensory approach.
In Sound Phonics Phase Five, the child explores different pronunciations of the same grapheme and different spellings of the same phoneme, and key spelling patterns are identified and practised. By Phase Five, children are more skilled at recognising graphemes made up of more than one letter, so the use of 'sound buttons' is much reduced. Instead the emphasis is on 'sounding out' words without them. The use of phoneme frames is also phased out as children practise spelling through counting phonemes, recognising spelling patterns or applying spelling rules.
Sound Phonics Phase Five Book 1 is the sixth book in the series and a one-per-child activity book. It focuses on:
revising Phase Three graphemes
practising 19 new graphemes for reading (including some split digraphs).
Reviews





Han
UK
I love this series! As a teacher in year 1, I think it's perfect for reinforcing the work you have done during whole-class phonic sessions. It works in parallel with Letters & Sounds, and if nothing else it offers a format of which phonemes/graphemes to work on each week. Very rare to have something that actually works alongside Letters & Sounds...normally all you can find is American books! And this covers ALL the phase 5 phonemes & graphemes. It's also really handy to have a phase checking system in the books - especially given the new Phonics Screening Test that's coming in... I can't recommend this series enough. If you're teaching phase 5 - this will help!





Angela Suphanit
Best buy for supplementing learning to read. Really helps with progression of phonics for children and adults who struggle to read/ read English as second language. Would definitely recommend using alongside reading books
Also in the Sound Phonics series
Free delivery
Free delivery on all UK orders over £30.
Safe & Secure Shopping