Reading with Pre-school Children
Suitable for: Foundation level for ages 3 to 5
ISBN: 9780721711003 | Pages: 16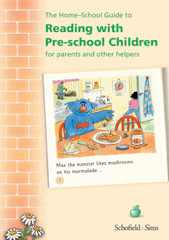 Take a look inside...
Product description for teachers and tutors
The Home-School Guide to Reading with Pre-school Children is a simple guide to preparing children for learning to read, and is an ideal resource for parents whose children cannot yet read but show an interest in books.
The pre-reading activities help children to develop vital early literacy skills and encourage them to take their first steps in the great adventure of reading.
This guide:
is perfect for use with the Daisy Lane Home-School Readers or other reading books for the appropriate age group
contains simple explanations of the process of learning to read
describes a broad range of literacy skills and reading strategies
is full of ideas and 'Brainwaves' for encouraging early literacy
is positive encouraging and easy to understand.
Reviews
There are no product reviews, why not be the first to write a review for this product?
Also in the Daisy Lane Pre-school series
Free delivery
Free delivery on all UK orders over £30.
Safe & Secure Shopping