Free National Poetry Day resource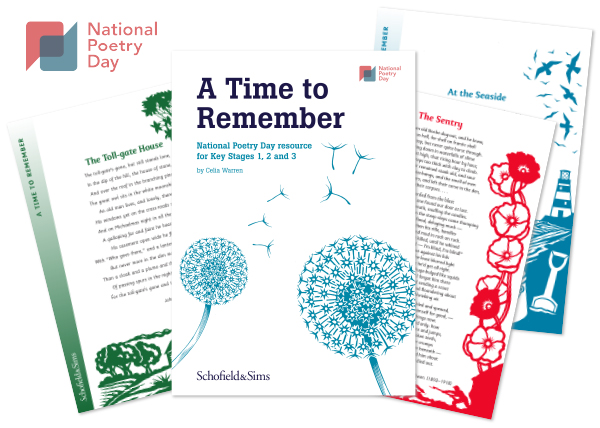 National Poetry Day is a nationwide annual celebration of poetry held on the first Thursday in October. This year's event takes place on Thursday 2nd October, and to mark the occasion Schofield & Sims author and poet Celia Warren has written a free downloadable poetry resource for schools on this year's theme of 'Remember'.
The resource, titled 'A Time to Remember', takes inspiration from the Schofield & Sims A Time to Speak and a Time to Listen poetry anthology, and features three separate poems on the subject of Remember, each aimed at a different Key Stage, as follows:
Each of the three poems is accompanied by a page of supporting notes for teachers, comprising a brief introduction to the poem and advice on how to read the poem aloud, together with a range of engaging speaking, listening and writing activities.
Whether schools choose to use the resources now, or later in the year, there is a wealth of cross-curricular material to help pupils appreciate the breadth and depth of poetry. For example, the Key Stage 3 resource based on Wilfred Owen's famous poem The Sentry could be used to teach pupils about the realities of World War One, while the Key Stage 2 resource, with its ghostly rider, could be used around Halloween.
Fittingly, the 'A Time to Remember' resource also provides ideal opportunities for learning poetry by heart, a key requirement of the new primary National Curriculum. Each set of teaching notes includes useful guidance on reading for meaning, as well as information about the use of rhyme and other poetic devices.
You can download a complete set of the resources here.
To find out more about how you can make the most of National Poetry Day in your school, please visit: www.nationalpoetryday.co.uk.
Celia Warren is a poet and writer of educational materials for children. Her poems and stories have appeared in hundreds of anthologies, and she is a frequent contributor to BBC Television and Radio. She has written a number of books for Schofi eld & Sims, including the best-selling series KS2 Comprehension and A Time to Speak and a Time to Listen – an illustrated poetry anthology for children and young adults, complete with accompanying Teacher's Guide.
comments powered by

Disqus