New - A Time to Speak and A Time to Listen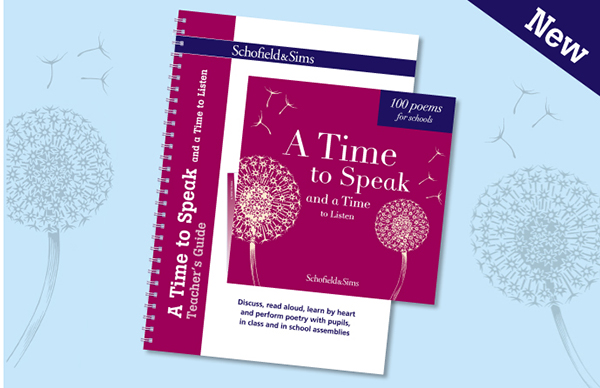 Our new school poetry anthology A Time to Speak and A Time to Listen and accompanying Teacher's Guide are now available online, providing teachers with an ideal opportunity to introduce pupils to the richness and variety of poetry.
A Time to Speak and A Time to Listen is an illustrated collection of poetry for Key Stage 2 and above, selected by children's poet and author Celia Warren, with a foreword by Wendy Cope. It features 100 contrasting poems written by over 70 authors, both classic and contemporary, including Alison Brackenbury, Hilaire Belloc, Charles Causley, G K Chesterton, Thomas Hardy, Ted Hughes, John Masefield, Alfred Noyes, Gervase Phinn and Rachel Rooney. Eight poems by contemporary writers are published here for the first time – including items by Roger Stevens, Jan Dean and Nick Toczek.
The A Time to Speak Teacher's Guide gives teachers full support in helping pupils to explore and appreciate the poems in the anthology. As well concise teaching notes, guidance on reading aloud and information on recurring themes and styles, the guide also features speaking and listening activities, school assembly plans and range of other useful photocopy masters.
The word 'poetry' appears 11 times in the draft programme of study for English in the new primary National Curriculum and more and more educationalists are recognising the value of poetry as a powerful medium for literacy. This is great news for a genre that has often been marginalised and we hope that this new anthology will help teachers to explore the myriad of ways that poetry can be used in school to help develop pupils' literacy skills and awaken a love of literature.
Celia Warren is available for readings, performances and workshops in schools by arrangement. Please email harriet@schofieldandsims.co.uk if you would like to organise a poetry event with Celia at your school.
comments powered by

Disqus