Times Tables Tests Book 2





(Based on 2 Reviews)
Suitable for: Key Stage 2 level for ages 8 to 11
ISBN: 9780721711362 | Pages: 31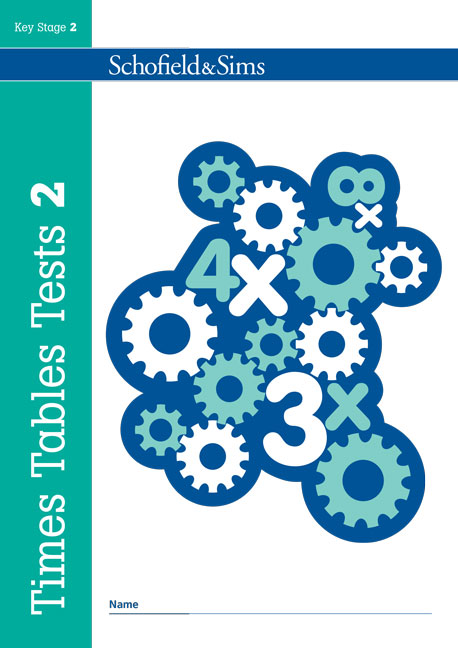 Product description for teachers and tutors
Times Tables Tests provides regular and structured times tables practice, helping children to strengthen their understanding of essential multiplication and division facts, before progressing to apply these facts to solve problems based on real-life situations. To further boost confidence and rapid recall skills, children are encouraged to work against the clock, which will also help them to prepare for timed examinations. All the tests are similar in format to those in Schofield & Sims Mental Arithmetic and may be used in conjunction with this series or independently.
Aimed at pupils in Years 4, 5 and 6, Times Tables Tests 2 features 24 single-page tests covering times tables up to and including 13 x 13. The short tests increase in difficulty over the course of the book and follow a consistent three-part format, comprising:
Part A – includes mathematical notation so that pupils can practise working with signs, symbols and simple maths words
Part B – includes written questions that introduce further mathematical language
Part C – tests pupils on word problems, allowing them to apply their knowledge of times tables facts and related division facts in real-life contexts.
Two Progress tests with accompanying Results charts enable children to see their consistency and speed build over time. A separate teacher's guide, Times Tables Tests Teacher's Guide, contains answers to all tests in the series, as well as guidance on teaching and reinforcing tables facts.
Dimensions: 21 x 0.2 x 29.7 cm
Reviews





C Nuttall
UK
I bought this book for my daughter (aged 9) last October, as her teacher suggested that the best way to help her, was for her to know and recall her times tables. We have done 20 minutes, on average 4 times a week and have found this book to be the best I have ever bought. I can ask my daughter any times table and she knows the answer immediately. This week during assembly, she even had a special mention for her times table knowledge. I am one very proud parent and my daughter is very pleased with herself too.





M J Houghton
Easy to use for reinforcing times table and seeing them used in the context of a varied examples of everyday things.
Also in the Times Tables Tests series
Free delivery
Free delivery on all UK orders over £30.
Safe & Secure Shopping