First Illustrated Dictionary
Suitable for: Key Stage 1 / Key Stage 2 level for ages 5 to 9
ISBN: 9780721711324 | Pages: 168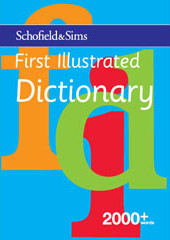 Take a look inside...
Product description for teachers and tutors
All the Schofield & Sims dictionaries stand alone as excellent sources of reference. Supporting the aims of the National Curriculum, the dictionaries and word books widen children's vocabulary and improve their reading and writing skills. They have been carefully graded so that each builds on the earlier one - thus providing a natural progression.
The words included have been carefully chosen to reflect contemporary usage and interests, and also to provide full support for children as they explore classic texts.
The Schofield & Sims First Illustrated Dictionary
contains more than 2000 headwords and definitions and over 500 colour illustrations
gives concise instructions on 'How to use this book'
provides short forms/irregular plurals/help with pronunciation
reinforces knowledge of the alphabet by providing an alphabet strip on each page
includes clear guide words indicating the first and last headwords on each spread
provides lists of colours/months of the year/days of the week/numbers
is supported by the First Dictionary & Thesaurus Activities (available separately).
Reviews
There are no product reviews, why not be the first to write a review for this product?
Free delivery
Free delivery on all UK orders over £30.
Safe & Secure Shopping