Teach Primary Sound Phonics review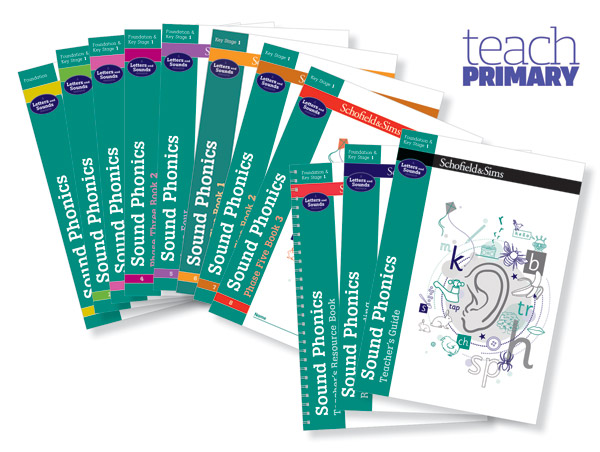 High praise for Schofield & Sims Sound Phonics in review by John Dabell for Teach Primary magazine.
Following the publication of the Sound Phonics Teacher's Guide, Sound Phonics Teacher's Resource Book and Sound Phonics Rhymes for Reading in January, we submitted the whole Sound Phonics programme to Teach Primary to review. The result is a glowing account, highlighting just what it is that makes Sound Phonics such an appealing programme.
In the course of the review John Dabell praised the Sound Phonics activity books for their child-friendly presentation, easy-to-use assessment activities, impressive breadth and healthy level of challenge. The three new books for teachers were equally well received. According to Dabell, the notes in the Sound Phonics Teacher's Guide 'ooze expertise and provide an excellent structure to teach from, whilst still leaving plenty of room for creativity', while the Sound Phonics Teacher's Resource Book provides a 'fine collection' of 'focused', 'diverse' and 'challenging' assessment and record-keeping resources. Perhaps the star of the review though was the new Sound Phonics Rhymes for Reading book, which was deemed 'one of the most useful resources in the programme' thanks to its 'brilliantly penned rhymes... full of energy, fun and talking points par excellence'.
For a summary of the review, you can read the final verdict below:
"Sound Phonics can count itself as being one of the best phonics materials on the market now that it's got the teacher's guide, rhymes for reading and resources on board. It provides a very clear structure for progression and caters for all learning styles, and its systematic and focused approach makes it an assured buy. If you are looking to get in the phonics zone then this programme is both intensive and extensive enough to help you prepare children for full fluency in reading, writing and spelling. I can easily see this being a popular and valuable resource to have in your collection - especially when you get online support and numerous downloads to make use of too."
Alternatively, you can view the full review on the Teach Primary website or in April's edition of the magazine.
To try Sound Phonics for yourself why not take advantage of our Sound Phonics Taster Pack which allows you to purchase all 10 activity books, Teacher's Guide, Teacher's Resource Book and Rhymes for Reading for just £20.00.
comments powered by

Disqus