The ultimate diary to ensure effective home–school communication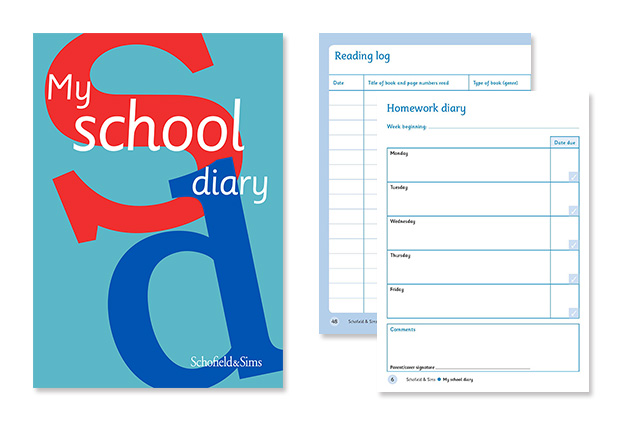 Promote strong links between school and home with Schofield & Sims' new A5 school diary, combining the best features of a homework diary and reading record in one.
Since the publication of our reading records and homework diary a few years ago we have received countless requests from teachers asking whether or not we offer a combined reading record and homework diary. Now, finally, schools can get the best of both worlds with My School Diary, a homework diary and reading record hybrid.
My School Diary helps to ensure strong home–school communication and encourages children to take ownership of their work. The first half of the book comprises 47 weekly 'Diary pages', providing space for children to record details of their homework together with the due date, as well as a 'Comments' box for teachers, parents and carers to share important information for the week. A separate 'Reading log' at the back of the book allows adults to keep track of children's reading at home by recording the number of pages read and making appropriate notes on the child's progress for the teacher.
In addition to the core diary and reading record pages, My School Diary also features a number of useful reference pages to assist children in completing their homework, including a world map, a multiplication square, a punctuation pyramid, vocabulary lists, and English and maths facts. The diary also offers opportunities for personalisation in the form of termly 'Targets' boxes, and 'Class timetable' and 'Class rules' pages for children to fill in. Simple 'Homework tips' are also provided to help children choose when and where to do their homework, how to start, and what to do when they might have finished, while a 'Notes for parents and carers' page gives information to adults about how they can help with homework.
If you would like more information about the school diary or to receive a free sample please contact: sales@schofieldandsims.co.uk.
comments powered by

Disqus