Build speed, fluency and confidence with SATs 10-Minute Tests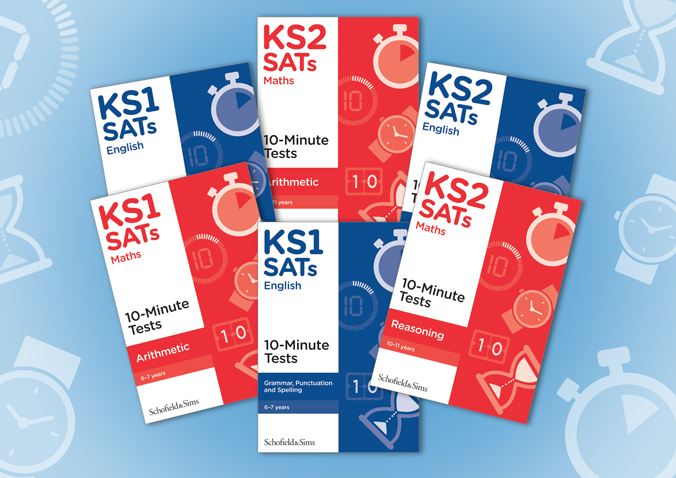 Joining our popular SATs series this June are the brand-new SATs 10-Minute Tests. These rigorous, yet child-friendly, tests enable short, timed practice of exam-style questions – perfect for squeezing into a busy school day or for independent revision sessions at home.
SATs 10-Minute Tests provide essential practice of key topics and skills in the run up to the SATs, in a concise format that will easily fit into children's busy lives. While full-length practice papers can often seem daunting, these 10-minute tests are an ideal way to familiarise children with the style and format of the exams, without sacrificing valuable teaching or family time. The series is designed to consolidate knowledge and build confidence, so that pupils can approach the exams feeling as positive and relaxed as possible.
The series comprises eight books, four for each key stage, covering the four main SATs subjects: Arithmetic; Mathematical Reasoning; Reading; Spelling, Punctuation and Grammar. Each book features a minimum of 22 tests that closely match the style and format of the exams, as well as providing comprehensive coverage of all the key test topics. The questions themselves gradually increase in difficulty throughout each book, building children's confidence while also preparing them to answer even the most challenging exam questions.
Each test takes just 10 minutes to complete, making them ideal for fitting into a busy school day or hectic home life. At the end of each test, children can record their score and how long they have spent on the exercise, to check that they are achieving the 10-minute target and to help identify any areas of weakness. Each test has been carefully designed to match the pace of the actual exams, helping children to build speed and stamina and to become accustomed to working under timed conditions.
SATs 10-Minute Tests are perfect for independent study sessions either in school or at home. The pull-out Answer Booklet contains the answers to all the questions in the book, as well as full instructions for using the tests and for marking them. Children are encouraged to colour in the Progress Chart at the back of each book, showing them how far they've come and allowing adults to monitor their improvements. Additional resources, including flashcards, can also be downloaded from the Schofield & Sims website to support further solo revision.
comments powered by

Disqus