National Poetry Day Assembly Plan: A Time to Change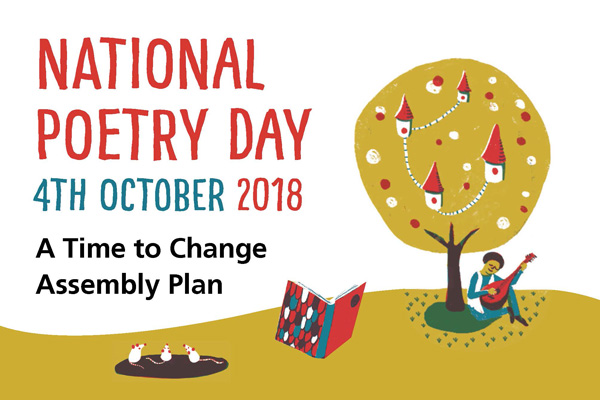 Celebrate National Poetry Day with our fantastic A Time to Change Assembly Plan, featuring poems from our A Time To Speak and a Time to Listen poetry anthology.
Change is all around us at the moment: children changing classes, leaves changing colour, t-shirts changing to jumpers. But it's not just this time of year. Change is constant, as exemplified by Heraclitus' famous aphorism 'everything flows and nothing stays' ('Panta chōrei kai ouden menei' in Greek). It's not surprising then that the clever people at The Forward Arts Foundation have chosen the engaging and universal idea of 'change' as the theme for this year's National Poetry Day.
To help celebrate this year's event, which takes place on October 4th, we're offering a free downloadable assembly plan on the theme of 'change', adapted from the Schofield & Sims A Time to Speak and a Time to Listen Teacher's Guide and based on poems featured in the accompanying anthology.
Structured around the famous verses beginning, 'There is a time for everything, and a season for every activity under heaven', the A Time to Speak and a Time to Listen poetry anthology contains a wide range of poems carefully chosen to illustrate the changing 'seasons' of life. Together, the 100 poems included in the anthology, reflect with thoughtfulness, candour and humour on the many varied themes of the verses that inspired them, such as birth and death, weeping and laughing, love and hate, encouraging children to appreciate the richness and variety of poetry while also developing new ways of exploring and understanding the world around them.
The A Time to Change Assembly Plan uses a selection of poems from the anthology to inspire children to think about how they experience change in their everyday lives and to encourage them to see that change is manageable. Many of the poems referenced in the plan are by well-known poets and may also be found either online or in other published collections. They include:
'Haiku' (Celia Warren)
'The Tree and the Pool' (Brian Patten)
'These Old Shoes' (Tony Mitton)
'The Loom of Time (Anonymous)
'Lion' (Celia Warren)
'Laugh and be Merry' (John Masefield).
However you plan to celebrate National Poetry day, whether it's by organising a poetry-themed assembly, displaying poetry around your school, meeting a poet, or throwing a whole-school poetry party, make sure that you involve as many people as possible and that you also think about ways to enjoy poetry throughout the rest of the year as well.
For more information and inspiration about National Poetry Day visit www.nationalpoetryday.co.uk.
comments powered by

Disqus