New - Understanding Reasoning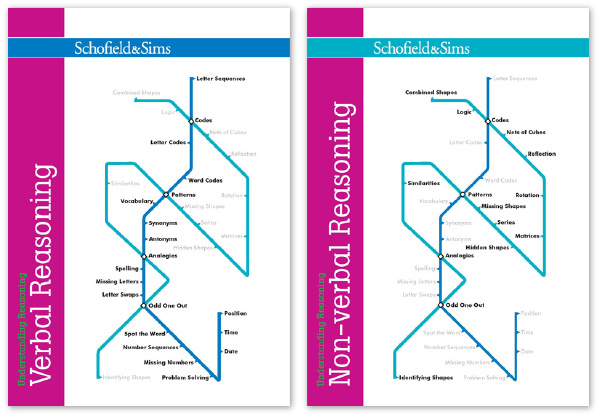 Schofield & Sims is pleased to announce that, in addition to maths, English and science materials, we now also publish resources for reasoning, in the form of two new learning workbooks: Understanding Verbal Reasoning and Understanding Non-verbal Reasoning. Both books provide step-by-step explanations to help pupils get to grips with the reasoning questions that are used in the 11+, 12+, 13+ and other school selection tests.
Understanding Verbal Reasoning is designed to improve pupils' ability to analyse information and solve problems using language-based reasoning. The activities use letters and words to explore pupils' understanding of language and meaning. Using methods that are quite distinct from traditional literacy activities, the book stretches pupils' verbal skills to the full and provides a strong foundation for secondary learning.
Understanding Non-verbal Reasoning features abstract figures, such as shapes and codes, rather than words, with the aim of building pupils' spatial awareness and visual problem solving ability. By working systematically through the book pupils can learn to identify how objects relate to one another and to apply logical deduction skills, as well as gain an understanding of key maths concepts such as symmetry and rotation. The activities are for use with all pupils, including those whose literacy skills are poor and those for whom English is a second language.
Used together, Understanding Verbal Reasoning and Understanding Non-verbal Reasoning can help pupils to prepare for success at 11+ and beyond. As with all Schofield & Sims books, practice is a key principle - and nowhere is practice more important than with reasoning, where the right preparation can equip pupils with the strategies and confidence required to solve even unfamiliar question types.
comments powered by

Disqus