New – Mental Arithmetic and First Mental Arithmetic Teacher's Guides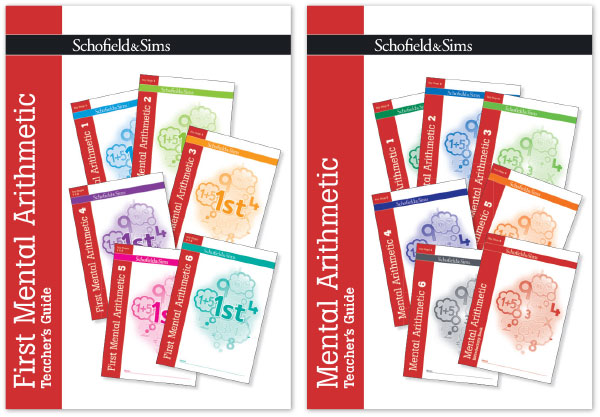 Maximise the benefits of First Mental Arithmetic and Mental Arithmetic with our new Teacher's Guides. Full of useful information and practical assessment material, they are the essential resource for both new and experienced users.
At first sight, the Schofield & Sims Mental Arithmetic products can seem a little daunting. These new guides are intended to bring clarity to both Mental Arithmental and First Mental Arithmetic, outlining the purpose and structure of the books, as well as giving advice on how best to use them (for whole-school maths practice, formative assessment or as homework, for example).
They also provide a range of useful photocopiable assessment materials, including Entry tests and Diagnostic checks. The Entry tests ensure that pupils are working on the right level book for their ability, while the Diagnostic checks are a valuable way of helping pupils who are struggling, enabling the teacher to pinpoint specific areas of difficulty and providing catch-up activities, in the form of 'Activity prompts'.
More general photocopiable resources are also provided, including number lines, 'Language of maths' vocabulary sheets, multiplication and counting squares, fractions charts, units of measurement and labelled 2-D and 3-D shapes. Resources for younger pupils include abacus sheets, number and word cards, a '1-100' number chart, and days of the week and conversation of number sheets.
For further Mental Arithmetic resources visit the Free downloads section of our webite, where you will find a range of 'Achievement award' certificate that can be customised with your school logo, as well as charts to help you estimate pupils' National Curriculum levels for maths, based on the work in their Mental Arithmetic books.
comments powered by

Disqus