Schofield & Sims Primary Catalogue 2017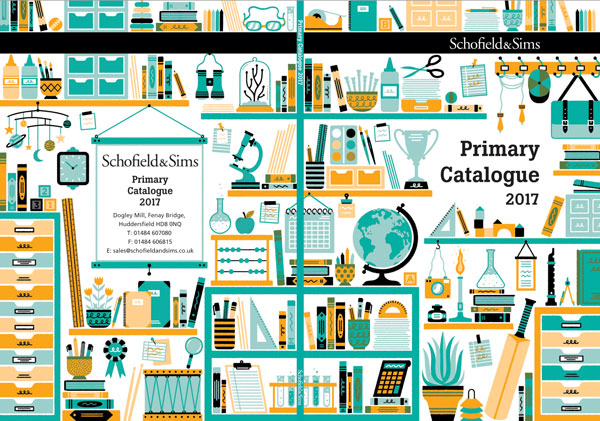 Discover a dazzling array of new and forthcoming titles in our 2017 catalogue, as well as the story behind this year's stunning cover design.
Featuring over 40 new titles across five different series, this year's catalogue offers teachers, parents and tutors more choice than ever. In particular, 2017 sees the publication of two major new schemes designed to help you tackle some of the most challenging areas of the new curriculum, in the form of Grammar and Punctuation (January 2017) and Fractions, Decimals and Percentages (June 2017). Both of these new series support a mastery approach to teaching and learning, and include detailed lesson plans for each primary school year, supported by high-quality practice materials, easy-to-use-assessment and a range of online materials.
Other new titles for 2017 include Telling the Time (June 2017), a structured series of activity books that breaks the process of telling the time into manageable steps, and a revised edition of Times Tables Tests (March 2017), featuring times tables up to and including 13 x 13. A new edition of English Skills (March 2017) will also be available later in the year, fully updated to reflect the requirements and terminology of the new programmes of study for English.
Eagle-eyed customers will notice that several series no longer appear in the catalogue. These include Early Spelling, Key Spelling, New Spellaway, Nursery Land, Nursery Sounds, Pre-Reading Skills and Sound Practice. Sadly, these titles are no longer in print but the catalogue includes a wide range of alternative titles that customers may purchase instead. If you would like advice on which series may suitable as replacements to those listed above, please contact david@schofieldandsims.co.uk.
We are extremely grateful to Kristyna Baczynski, the talented illustrator responsible for this year's catalogue cover design. Kristyna is a comic book artist and designer who grew up in Yorkshire – not far from the Schofield & Sims Huddersfield office – and whose family originally came from the Carpathians in Ukraine. We loved the quirky, nostalgic style of her designs and knew immediately that she was the right person to work on our 2017 catalogue cover. The illustration perfectly captures our traditional approach to education while also reflecting our love of clean, simple design. Watch how the design came to life in the time-lapse video below.
comments powered by

Disqus