Schofield & Sims Primary Catalogue 2019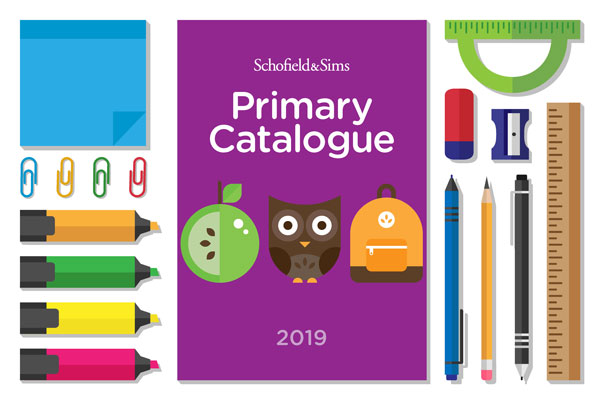 The world has spun for another year and it is once again time to reveal our shiny new catalogue, packed with exciting resources to support children's learning.
Without doubt, the highlight for this year is WriteWell, a complete handwriting programme designed to guide children from their first steps in mark making to the development of clear, confident and speedy joined handwriting. Based on a developmental approach recommended by the National Handwriting Association, it ensures that children get the basics of handwriting correct from the start, allowing them to progress at their own pace as their handwriting skills flourish.
The WriteWell series includes eleven pupil books grouped into four Stages: Shape; Space, size and sitting on the line; Stringing together and slant; Speed and style. Each pupil book provides extensive opportunities to practise new learning in activities ranging from simple tracing and copying tasks to composition exercises. Teachers are supported by a comprehensive Teacher's Handbook, featuring helpful tips and detailed teaching notes for each Stage, alongside easy-to-use photocopiable assessment and intervention resources. With plenty of varied activities and creative teaching ideas, WriteWell helps make the process of learning to write exciting and fun, equipping children with a skill that will benefit them throughout their school careers and beyond.
We also have a number of new revision and practice resources publishing this year, starting with the SATs 10-Minute Tests in June. These short, timed tests have been carefully designed to fit into children's busy lives, either in school or at home, quickly highlighting which areas need improvement. There are eight books in total, one for each of the four areas tested at the end of Key Stage 1 and Key Stage 2. Each test provides bite-sized practice of key national test topics, helping to consolidate skills and build speed and confidence as children approach the SATs.
Our range of 11+ revision materials is also expanding, with two new 11+ Practice Paper packs publishing in July, containing realistic exam questions for both the CEM and GL tests. Ideal for use in the final stages of a child's 11+ journey, each resource pack includes a complete set of practice papers for the relevant exam, together with multiple-choice answer sheets, detailed guidance notes and full explanations to all the answers. Written to match the structure and format of the actual tests, they allow pupils to practise answering authentic 11+ questions under exam conditions, helping them to feel comfortable and confident on the day.
As well as welcoming several new series this year, we also have to say goodbye to a few, namely Nursery Activity, Nursery Writing, Nursery Numbers, Nursery All About, Early Writing, Basic Skills and Springboard. For advice on choosing suitable alternatives to these titles please contact our customer service team (sales@schofieldandsims.co.uk).
As ever at Schofield & Sims, we strive to make learning as clear and effective as possible – without gimmicks, without hidden costs and without additional workload. While education fashions come and go, we aim to produce high-quality, affordable resources that provide children with a solid grounding in the basics, ensuring that every child has the tools to succeed, be that in the classroom, with a tutor or at home.
If you wish to view our catalogue online or order a free print copy, please visit our catalogue homepage.
comments powered by

Disqus