My Letters and Sounds receives DfE approval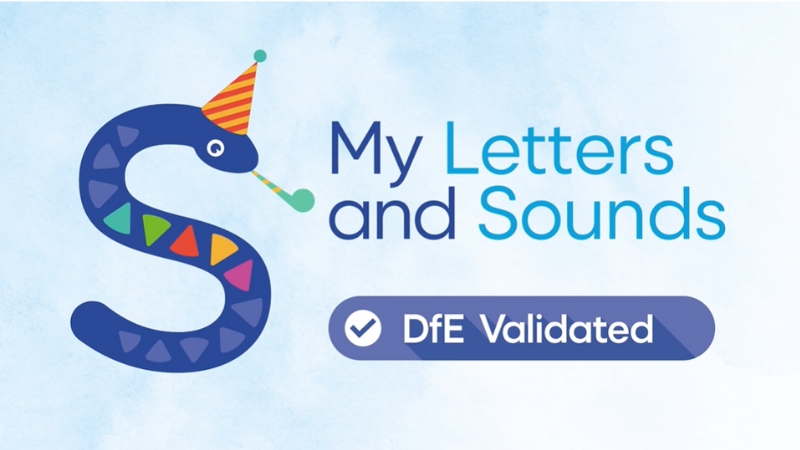 Our brand-new phonics programme, My Letters and Sounds, joins the shortlist of SSP teaching programmes that are approved by the Department for Education.
We are thrilled to announce that My Letters and Sounds has been validated by the Department for Education (DfE) following a successful review by an independent panel. Our brand-new phonics scheme joins a list of DfE-approved programmes, having been judged to meet all the most recent DfE criteria for an effective systematic synthetic phonics (SSP) programme.
While there is no statutory requirement for schools to choose one of the validated SSP programmes, the DfE strongly recommends that schools consider using an approved programme that enables their teachers to deliver systematic, synthetic phonics instruction throughout Reception and Year 1.
Why choose My Letters and Sounds?
Developed by expert authors and trialled in schools, My Letters and Sounds offers your staff everything they need to deliver effective phonics instruction, allowing teachers to concentrate on how to teach, rather than what to teach, and to focus on the needs of their class.
Daily lesson plans that reduce teacher workload
Two comprehensive Teacher's Handbooks, one for Reception and one for Year 1, sit at the heart of the programme. The Teacher's Handbooks provide detailed teaching guidance and well-paced, step-by-step lesson plans that empower teachers to deliver high-quality phonics instruction with confidence.
Each Handbook also contains an extensive range of photocopiable resources that support the activities in the teaching guidance and lesson plans, as well as practical advice on both ongoing and summative assessment.
Beautifully illustrated Phonics Readers
The My Letters and Sounds Phonics Readers are exciting, fully decodable stories that perfectly match the progression of the My Letters and Sounds SSP programme. Over 100 Readers allow children to apply their phonics skills to reading 'real' books from a very early stage.
A variety of attractive, contemporary illustration styles give the Readers the look and feel of real, high-quality children's picture books. Written in natural language, with plenty of humour, the story texts focus on themes and experiences that will appeal to young children from a variety of different backgrounds.
Plenty of digital resources
A wide range of digital resources are available for each phase of My Letters and Sounds, including colourful displays, audio and games to support the lesson plan activities. Digital assessment resources, including Assessment checks and corresponding Analysis sheets for each of the phonics skills, which help you to evaluate individual children's progress at the end of each phase, are also available to download. These ready-to-use resources are organised by phase and type on the Schofield & Sims website, making it easy to find what you are looking for.
Plus, Classroom Kits containing physical versions of some of the most popular resources will be available in September 2022.
Workbooks for targeted practice
Write-in Phonics Practice Pupil Books can be used at school or at home to practise the key phonics skills of grapheme recognition and recall, blending to read and segmenting to spell, and build children's confidence in reading and writing captions and sentences. The Pupil Books reinforce each new learning point taught, making them ideal for providing additional support to children who need help keeping up with their peers.
Expert CPD training
The My Letters and Sounds training programme offers high-quality and affordable sessions for schools that need help implementing the programme, upskilling staff and supporting the effective delivery of the programme. Training is always live so that teachers have the opportunity to ask questions, with sessions available online or in-person.
Request a free information pack
Explore the My Letters and Sounds programme further by requesting a free information pack. The emailed pack will include access to a digital library of books and resources from across the scheme, along with further information about how My Letters and Sounds can help your school.
comments powered by

Disqus