New Revision Guides and Practice Papers for the 2016 National Tests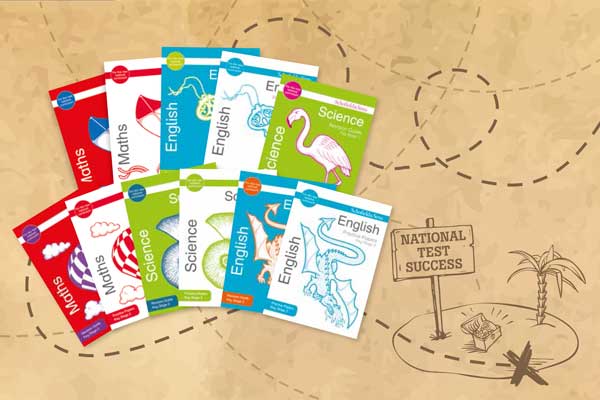 Schofield & Sims is pleased to announce the publication of new editions of our popular Revision Guides and Practice Papers – just in time for pupils preparing to sit the new national tests in May.
Carefully updated to match the National Curriculum programmes of study, the new Schofield & Sims Revision Guides provide detailed explanations and targeted practice to help reinforce children's understanding of the key concepts and skills required at each key stage. Accompanying Practice Papers offer further opportunities for revision, building confidence and familiarising pupils with the appearance and content of the tests.
There are six Revision Guides in total, covering maths, English and science at Key Stage 1 and Key Stage 2. Suitable for use either in the classroom or at home, the books help children to prepare for the national tests by guiding them through what they have already learnt in school on a topic-by-topic basis.
Key features of the Revision Guides include regular Test yourself questions to check recall of information and eye-catching, yellow Remember boxes to summarise important information. A comprehensive index means that children can either work through the entire book or focus on individual topics that they have found challenging in class. Helpful Tips for tests, offering advise on how to revise effectively, are also provided, together with a glossary to encourage the correct spelling and use of subject vocabulary.
Supporting Practice Papers are available for all three Key Stage 2 subjects, as well as for Key Stage 1 maths and English. Closely matched to the Department for Education's new assessment frameworks, the papers have the appearance of a formal test and feature rigorous, exam-style questions, to help children meet the raised expectations of the new national tests.
Full instructions for use, including guidance on equipment and timings, are also provided, along with detailed mark schemes to help you determine whether or not children are meeting the expected standard. Additional cross-references to relevant information in the accompanying Revision Guide serve as a helpful prompt, allowing pupils and adults to tailor revision for exam success.
For further information on how each Revision Guide links to the new National Curriculum, please view the Revision Guide Curriculum Charts available on the free downloads page of our website.
For more information or to order a Taster pack please visit www.schofieldandsims.co.uk/revision.
comments powered by

Disqus