New Sound Phonics resources to support Letters and Sounds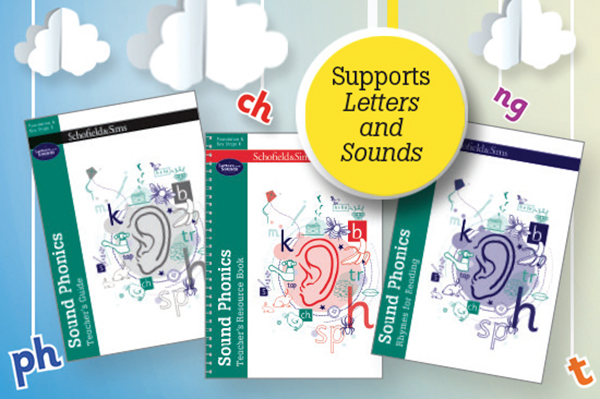 Following the success of the Sound Phonics activity books, Schofield & Sims has added three new books for teachers to the series, turning it into a complete phonics teaching programme for use alongside Letters and Sounds.
Unless you've been living in a cave for the last few years, you'll know that the government is on a mission to promote high quality teaching of systematic synthetic phonics in primary schools. To the extent that, up until October last year, it was offering match-funding of up to £3,000 to all state-funded schools in England with Key Stage 1 and Key Stage 2 pupils, in order to buy approved systematic synthetic phonics products and training. Then there's the Year 1 phonics screening check, a short, statutory assessment to confirm whether individual children have learnt phonic decoding to an appropriate standard, which the government introduced in June 2012.
The focus on phonics stems from a review carried out by Jim Rose in 2005 on effective ways of teaching early reading, including the role of synthetic phonics. The Rose Review, as it became known, confirmed that 'high quality phonic work' should be the prime means for teaching children how to read and spell words. In response to the review the government published a set of core criteria defining the key features of an effective systematic synthetic phonics teaching programme. It also published its own phonics programme called Letters and Sounds that not only encapsulated the reading review recommendations and met the published core criteria which define a high quality phonics programme, but also took into account best practice seen in the most successful early years settings and schools.
Although there are now many commercial phonics schemes that meet the core criteria outlined by the government for a high quality phonics programme (including Sound Phonics), Letters and Sounds remains a popular and valuable resource for teachers. Not only does it clearly express the principles of synthetic phonics, it also provides a clear structure for progression and caters for all learning styles. Above all, its systematic and focused approach gives teachers confidence about teaching phonics, even when they are inexperienced.
In recognition of teachers' ongoing use of and affinity for Letters and Sounds, Schofield & Sims has published three new teacher's books (a Teacher's Guide, a Teacher's Resource Book and a phonic rhyme books called Rhymes for Reading), providing a complete set of materials for teaching phonics effectively in the classroom – all fully aligned to Letters and Sounds.
The Sound Phonics Teacher's Guide includes detailed teaching notes on how to introduce and revise the key learning points in each Letters and Sounds Phase and is carefully structured to help you plan your phonics teaching around the Sound Phonics activity books. Key features include:
an outline of the learning focus
practical, multi-sensory activities to introduce and reinforce phonic knowledge
ideas to facilitate effective use of the Sound Phonics activity books
extension games and activities providing further practice and consolidating learning
'little and often' practice activities to revise recognition and recall of known graphemes
guidance on helping children to apply their phonic learning in reading, writing and other areas of the curriculum.
The adult-led activities recommended in the Teacher's Guide are designed to be carried out in groups or pairs and are supported by the photocopiable materials in the accompanying Sound Phonics Teacher's Resource Book. A range of easy-to-use assessment and record-keeping resources are also provided in the Teacher's Resource Book that correspond to the assessment tasks found at the back of the Sound Phonics activity books. Further supporting resources are available as free downloads from our website, including a full set of Character downloads, 'Letters' and 'Lines' handwriting downloads, a glossary and a Letters and Sounds Correlation chart.
Sound Phonics Rhymes for Reading is a collection of 60 photocopiable, phonically decodable rhymes for children working on Phases Two to Four of Letters and Sounds. It provides a bank of texts that enables children to practise and apply phonic knowledge in a satisfying and authentic reading context from a very early stage – when the level of phonic knowledge can make it difficult to find appropriate reading material. The rhymes cover a range of common Early Year Foundation Stage and Key Stage 1 themes, as well as supporting the increased focus on reading and performing poetry in the National Curriculum 2014.
Sound Phonics really is the ultimate Letters and Sounds resource, blending activities for the classroom, activity books, and reading material to successfully teach pupils how to decode words using phonemes and graphemes, as well as identifying 'tricky words' that do not follow the phonic code. But don't just take our words for it; why not try it for yourself with our Sound Phonics Taster Pack!


comments powered by

Disqus