What should a reading recovery curriculum look like?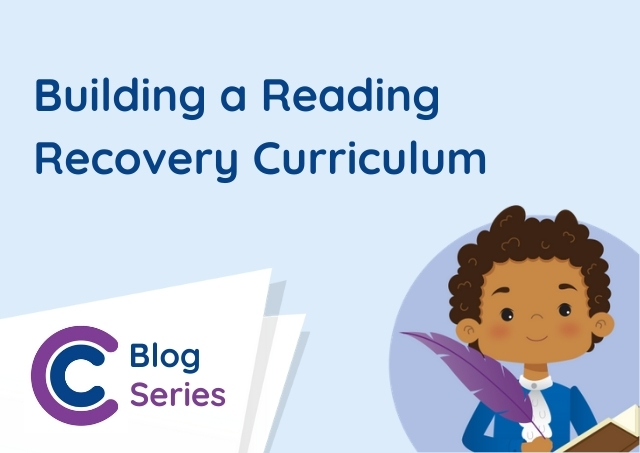 Complete Comprehension author Jane Sowerby shares her advice on building a broad and balanced curriculum and explains why reading should be at the heart of it.
We are all doing a great deal of thinking about recovery at the moment. It is important to get it right after so many lost school days, but time isn't on our side. I am increasingly coming to realise that those things that were important before the pandemic are still important now. In the context of reading, having access to a rich variety of high-quality texts has probably never been more vital and I urge school leaders to hold it at the heart of their long-term planning for recovery and beyond.
The data starting to come through indicates, not unexpectedly perhaps, that children from the most economically disadvantaged households have lost out the most on learning during the pandemic. The Department for Education's interim findings, published in January 2021, found learning loss in reading was evident across all year groups, with the most severe loss found in schools with the highest disadvantage. Additionally, the large-scale RS Assessment research published in February 2021 shows Pupil Premium-eligible children at relatively affluent schools tended to fare worse than those at more deprived schools.
Building Cultural Capital
There is so much for school leaders to consider when it comes to reducing the attainment gap and while every child's needs will be different, I believe that schools that are able to provide a broad and balanced curriculum will have a significant advantage in the coming months.
Inspectors aren't inspecting 'cultural capital', they're looking at whether the school provides a rich and broad curriculum. A great curriculum builds cultural capital. https://t.co/mwyvNoKXVQ

— Ofsted (@Ofstednews) October 9, 2019
The current inspection framework requires schools to develop children's cultural capital and, in order to do that, schools need to promote a varied curriculum. When writing Complete Comprehension, I was determined to provide children with access to texts that, through carefully engineered activities, discussion and questioning, build on their experiences as well as extend them. The result is a series of texts that teachers can easily use to build knowledge about a wide range of cultures, and to provide a vast array of experiences that contribute to the acquisition of cultural capital.
For example, in Complete Comprehension Book 4, we explore a non-fiction text by Crispin Boyer called Everything Castles and pair it with Sir Gawain and the Green Knight by Michael Morpurgo. The texts work together; the first develops an understanding of different types of castles, how they were used as symbols of power, and provide insight to the feudal system. The second text builds on this knowledge and vocabulary and introduces one of the greatest legends of all time, King Arthur and his Knights of the Round Table. By teaching these two texts simultaneously, children develop their knowledge of medieval knights and chivalry across textual boundaries.
While educational visits to museums, galleries and world heritage sites might be a fantastic way of giving children what they need access to, the logistics of achieving this physically are rather challenging for all but a very few. However, high-quality texts can transport children and their teachers to amazing places now and in the past. In Complete Comprehension Book 3 and Book 4 we experience life in Roman Britain, learn about mummification, spend Christmas with Dickens, delve into Russian folklore, experience rural farm life in the Caribbean, and hear from Louisa May Alcott's Little Women. The key to choosing the right texts is opening children's minds to a wide range of vocabulary and situations that they are unlikely to experience first-hand.
School leaders are familiar with the seminal Risley and Hart, 1992 research identifying a '30 million word gap' in pre-school between low and high income families. While there might be some question about the exact size of the gap in the last 25 years, there is no debate about the fact that it is a significant one. It seems highly likely to me that this uncomfortable truth is even more relevant now in this post-pandemic period than ever before. A focus on vocabulary, whichever evidence-informed approach a school leader chooses to adopt, has got to be a serious contender for any recovery strategy. I think we could do a lot worse than revisit the National Curriculum for inspiration:
'Good comprehension draws from linguistic knowledge (in particular of vocabulary and grammar) and on knowledge of the world. Comprehension skills develop through pupils' experience of high-quality discussion with the teacher, as well as from reading and discussing a range of stories, poems and non-fiction. All pupils must be encouraged to read widely across both fiction and non-fiction to develop their knowledge of themselves and the world in which they live, to establish an appreciation and love of reading, and to gain knowledge across the curriculum. Reading widely and often increases pupils' vocabulary because they encounter words they would rarely hear or use in everyday speech. Reading also feeds pupils' imagination and opens up a treasure-house of wonder and joy for curious young minds.'
Complete Comprehension is a really straightforward way to ensure that teachers are supported as they help children develop the vocabulary, comprehension skills and knowledge they need to open up that treasure-house of wonder.
comments powered by

Disqus