The new SSP for Letters and Sounds schools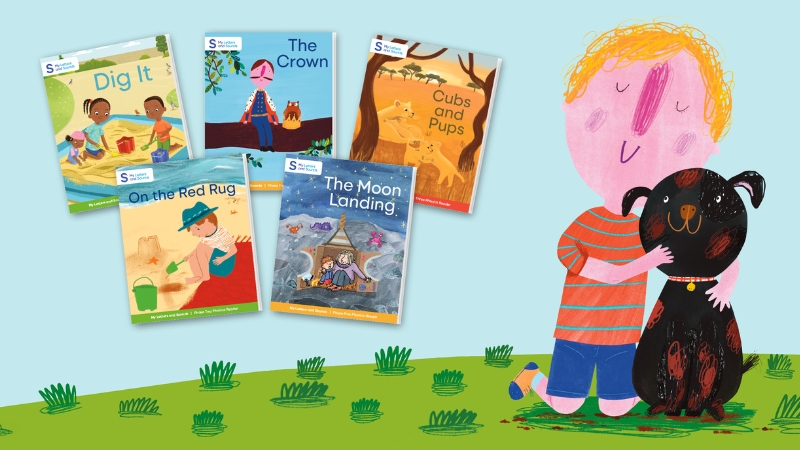 After almost two years in the making, we are delighted to launch our brand-new systematic synthetic phonics (SSP) programme, Schofield and Sims My Letters and Sounds.
The scheme takes the very best elements from the popular Letters and Sounds phonics resource to provide an up-to-date and complete set of resources that meet the Department for Education's revised core criteria for an effective SSP programme.
Featuring teaching guidance, daily lesson plans, pupil workbooks and more than 100 stunning Phonics Readers, My Letters and Sounds is a comprehensive, fully supported programme that will enable your staff to deliver systematic, synthetic phonics instruction throughout Reception and Year 1.
Fully decodable Phonics Readers
110 fully decodable Phonics Readers have been matched to the Letters and Sounds progression. The My Letters and Sounds Phonics Readers are finely graded to allow children to apply their phonics skills to reading 'real' books from a very early stage, with new grapheme-phoneme correspondences (GPCs) and tricky words generally introduced in small groups. A variety of attractive, contemporary illustrations give the Phonics Readers the look and feel of real, high-quality children's picture books. Written in natural language, with plenty of humour, the story texts focus on a wide variety of themes and experiences.
Phonics Practice Pupil Books
Write-in My Letters and Sounds workbooks provide practice in the key phonics skills of grapheme recognition and recall, blending to read and segmenting to spell, and build children's confidence in reading and writing captions and sentences. With a page or double-page spread for every new learning point in the programme, the workbooks can be used flexibly, at school or at home, to consolidate the work done in the daily phonics session.
Teacher's Handbooks
Separate My Letters and Sounds Teacher's Handbooks for Reception and Year 1 include everything you need to empower teachers to deliver high-quality phonics instruction with confidence. They follow a simple structure, with content divided into teaching guidance, lesson plans and resources. A wealth of photocopiable resources, including word cards and sentences for matching, support the activities in the lesson plans, and can also be used for extra reinforcement outside the daily phonics session.
Additional online resources
Flexible, child-friendly digital and audio resources support the activities in the Teacher's Handbooks, with weekly Resource Packs collating larger versions of the photocopiable resources needed for each week's teaching in a handy downloadable and printable format.
Feel confident in phonics
My Letters and Sounds will give you the knowledge and tools you need to ensure that your pupils meet or exceed the expected standard in the Phonics Screening Check, as well as the expectations for word reading set out in the 'Early Learning Goals' section of the statutory framework for the Early Years Foundation Stage (EYFS) and the National Curriculum.
If you love letters and sounds but need a complete scheme that you can follow with fidelity, request a free book sample to see how My Letters and Sounds can help your school. You can also read more about how the programme can help your school in our programme overview.
comments powered by

Disqus