Top tips for setting the perfect primary school homework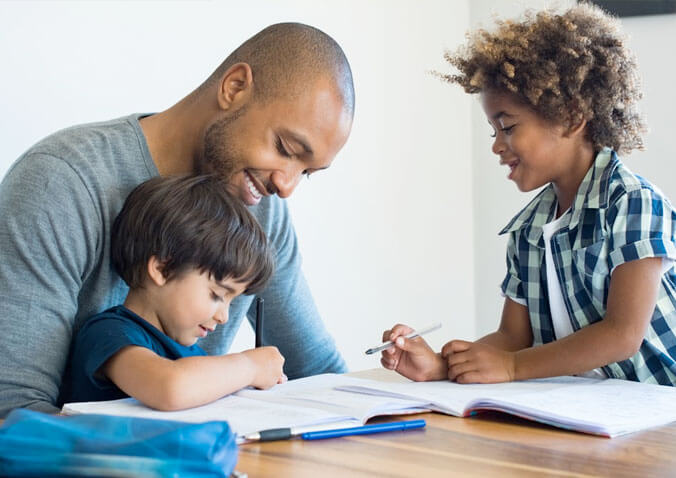 At Schofield & Sims, we strongly believe that homework can have enormous benefits at the primary level; it's all about finding the right kind.
Over the years, primary school homework has been the cause of much debate. Many argue that homework is unnecessary for younger pupils, pointing to the seminal work, Visible Learning, by education researcher Professor John Hattie, where he claims that homework in primary schools has a negligible effect on pupil learning. It should be noted, however, that later in the book, Hattie suggests that one of the key reasons for the ineffectiveness of primary level homework (as compared to homework set in secondary schools, which he considers to have more of an impact) may be the nature of the homework tasks themselves.1 In which case, what homework should we be setting for primary school children?
Retention of knowledge
It is commonly accepted that the best kind of homework tasks are those that link closely to what has already been taught at school. The Education Endowment Foundation, for example, states that "short focused tasks or activities which relate directly to what is being taught, and which are built upon in school, are likely to be more effective than regular daily homework."2 Professor Hattie also commented, in a 2014 interview with the BBC, that "the best thing you can do is reinforce something you've already learned."3 This is partly because pupils rely heavily on their working memory when processing new information, which means they are quite likely to forget new learning without further consolidation. By reinforcing what a pupil has already learnt at school, homework helps to transfer this knowledge from the working memory to the long-term memory, so that learning becomes firmly embedded. To this end, specific activities that build on prior learning, such as practising column division at home following a maths lesson on the subject, or learning a set of spellings based on a newly taught spelling rule, are likely to be much more valuable than unrelated or routine homework tasks.
A base for future learning
Not only does homework help retain knowledge, it also helps expand it. Homework acts as a launch pad for pupils to explore other aspects of the world around them and to engage with further learning. At home, children have the time and space to think about a subject in more depth, whether that be revisiting a tricky word problem, reading a non-fiction book on a topic they have enjoyed in science or practising the corresponding division facts for a times table that they have just mastered. Other homework tasks, such as pre-learning and research activities, can also be highly beneficial to pupils at the primary level, helping them to develop inquiry skills outside the classroom and build their knowledge and creativity.
Revision and study skills
For pupils nearing the end of primary school, homework can be a good way of preparing for the Key Stage 2 national tests or 11+ exams. Series like our SATs 10-Minute Tests, which consolidate key maths and English skills in short 10-minute sessions, allow pupils to revise in quick bursts that won't encroach on family life. Homework can also contribute to academic success in the long term by fostering a strong work ethic and encouraging independent learning, especially if children have the opportunity to record their homework in a personalised diary. While exams such as GCSEs and A levels may seem far away, learning independent study and organisation skills from a young age gives students a real advantage later on. According to the influential education blogger Tom Sherrington: "Students who are successful at A Level and at GCSE are those who have highly developed independent learning skills, have the capacity to lead the learning process through their questions and ideas."4 The long-term benefits of homework arguably more than outweigh any short-term pain, giving pupils lasting study skills to guide them through the innumerable tests that we undertake throughout our lifetime, whether they are revising for A levels, driving tests or bar exams.
Parental involvement
Parents and carers sometimes have little understanding of what goes on within the classroom. Children are usually more interested in sharing their playground antics than what they learned in maths today. Homework bridges this gap, helping parents to familiarise themselves with the curriculum and engage with school life. In Ofsted's Parent Panel report 2017, parents said that "homework enables them to feel part of their child's learning and that it helps them to support that learning with other activities, such as visits to museums and home projects."5 This is especially important in the Early Years Foundation Stage, where parental involvement is crucial to children's progress.6 Simple phonics or handwriting resources, with tailored guidance for adult helpers, like our Sound Phonics or WriteWell activity books, can provide parents with valuable reassurance about how to support their child in these important areas. Homework isn't just about academic achievements; it is also about cementing the relationship between school, pupil and parents, building a close-knit support network for children as they progress through school.
A balanced approach
With the right homework comes innumerable benefits, for pupils and adults alike. Teachers can maximise their pupils' education by extending learning outside the classroom, while parents gain a valuable insight into their children's academic lives, perhaps even learning a thing or two themselves! For pupils, knowledge and skills are more secure and their chances of academic success higher, plus they gain valuable study skills for later life. Short, sharp activities, consolidating what children have already learnt in school, provide far more value than longer, vague tasks and have the added benefit of not interfering too much in home life. Homework is not intended to prevent children from doing all the activities that help them grow into well-balanced, rounded individuals, such as family time or having fun with a new hobby. The best homework tasks support these activities, rather than minimising them, and equip children with skills that will benefit them throughout their school careers and beyond.
---
1Hattie, J., 2009. Visible Learning, pp.317–318.
2Primary Homework Toolkit, The Education Endowment Foundation https://educationendowmentfoundation.org.uk/evidence-summaries/teaching-learning-toolkit/homework-primary/
3Professor John Hattie BBC Radio 4 Interview https://www.bbc.co.uk/programmes/p0252t4j
4Homework Matters; Great Teachers set Great Homework by Tom Sherrington https://teacherhead.com/2012/09/02/homework-matters-great-teachers-set-great-homework/
5Ofsted Parent Panel Report 2017 https://assets.publishing.service.gov.uk/government/uploads/system/uploads/attachment_data/file/691220/REPORT_Parents_Panel_Annual_Report_2016-2017.pdf
6Early Years Toolkit, The Education Endowment Foundation https://educationendowmentfoundation.org.uk/evidence-summaries/early-years-toolkit/parental-engagement/
comments powered by

Disqus